It's that time again!!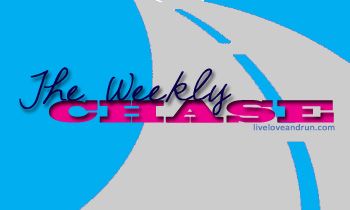 I've already confronted my goals
a few days ago
so you can head there if you want to check out how it went! (Spoiler Alert: there is a vlog!) With that said and done, I'm going to go ahead and declare my goals for the week!
Goal #1:
Use my group fitness Groupon! I love living in Philadelphia for Groupons, because I think I get the opportunity to buy some pretty awesome ones. I bought a 30 Class Pass for
Meta Body
and I'm really excited because they have boot camp options. And I want to try some! So I'm going to start off slow so I can accomplish this. At least one class this week!!
Goal #2
:
Vlog. Oh, have you heard this one before? Yes I think you have. :) I just want to keep it up. I have my topic ready to go and stuff. So that should be happening sometime early this week.
Goal #3
:
Go get my feet sized up for some running shoes. I've got my eyes set on some, but I want to get them professionally sized and get an opinion on which ones will be good for my feet. Good thing I've got Philadelphia Runner to help me out. :)
Three goals this week. Get ready to go down!
So, now that we've got that under control! I've returned after a lovely weekend at the beach redder than I would have hoped. It's turning a little bit pink though, so I think that's a nice transition.
If that's not a nice enough transition, I wore my new sweat pink tank top on the beach. :)
So I've
generally mentioned
that I am a Sweat Pink Ambassador now for Fit Approach. That's pretty awesome itself. And I'm sure you've seen this floating around the blog world before, but I've got some stuff I want to share!
Instagram picture is a must.
Do you want to spice up your sneaks? Or do you want to do something else creative with
pink
shoelaces? I don't know about you, but colorful workout gear is my best friend. So taking a quick peak down at these babies while I'm running/jumping/pushing up is a quick way to pump me up.
And I've got some to give away! HINT: I don't have a million blog views so your chances are good! Enter!!
All you have to do is leave me a comment telling me how you are going to use these shoelaces. Yup, that's it.
If you're putting them in your sneaks, tell me why! What you do! Anything! Get creative here, people!
Depending on how many entries I get
, I'll do a random number generator as well as pick the most creative/funny/impressing entry. But that's only if a good number of people comment. Otherwise, I'm sticking with the random. :)
Oh, do you want more entries? You can do a couple of things.
Follow me on Twitter! @RunPrincipessa
Tweet about this giveaway. I don't care what you say! I mean, I'd like it to be positive. Whatever floats your boat. Just make sure you mention my twitter handle.
And that's it! Just make sure you
comment for each entry
so I can count them! You have until
Thursday, July 12
(12:00 noon EST)
to enter. So get on that!!

Speaking of Sweat Pink, go check out this blog hop to discover some truly amazing blogs. And bloggers. You know, the people are important too. :)
That is all. Go kick butt today!! :)