I'm BACK. After a short Thursday post, I went to the doctor and found out that I had overuse tendonitis in my right wrist. Lame. So I was on heavy wrist-rest this weekend which included no blogging and minimal tweeting. But I'm feeling better and I really want to participate in this new-fangled thing crafted by Melissa at
Live, Love, & Run
.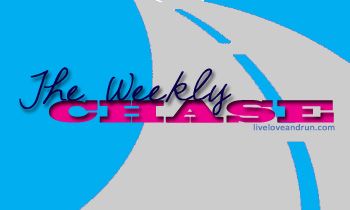 I just talked about goal setting in my Motor Behavior class this morning, so I am pumped to set me some goals. Most people who talk goals talk about setting
S
pecific
M
easurable
A
ttainable
R
ealistic
T
ime-based goals. But in class today, I saw something that really stuck with me.
Challenging A
ttainable
R
ealistic
S
pecific. It's always good to remind yourself that goals are here for a reason: to push yourself.
Goal #1
:
Stick to my training schedule for the week. Today starts the first day of half marathon training and I am DEDICATING myself to it this time. I want it. I want it badly. And so I will train my butt off.
I'm going to a Phillies game tonight, as you can see! Sunday asks for five miles.
There isn't any cross training on the schedule. That's a topic for another day. So I'm going to see how the speed work goes. If I have to cut back to not injure myself, those will be the first days to go. After that, I'd cut the Saturday short runs and move the long runs to Saturday. I'm challenging myself with this plan, but I refuse to challenge myself to the point of injury!
Also, stretching/yoga/foam rolling/whatever gets me limber will happen EVERY. SINGLE. DAY. EVERYDAY.
Goal #2
:
Don't do anything to ruin the wrist! As you can see, today is a strength day. I need to modify, modify, modify. Sure, I can run without my wrist. But can I function in every day life without my wrist? Don't I sound like a brat. Yes, Amanda. You can if you need to.
I'm just sick of trying to wipe my butt with my left hand. Just saying.
What are your goals for the week? Link up if you have a post about it here!